If you're not already following him on Twitter, there are dozens of hysterical tweets from Neil Patrick Harris that you need to see. He frequently references fellow stars, his beautiful twins, and the projects he's working on. The one thing all of his comments all have in common? They'll make you smile, even on your worst day! Here are some of the best tweets from Neil Patrick Harris:
---
1

Adam Levine

Neil has great taste in men, which is why his fiance is so gorgeous, sweet, and talented. If you don't think you trust his judgement, all you have to do is read this cute tweet. Which one of us would refuse to be pressed up against Adam Levine? This is one of the great tweets from Neil Patrick Harris that prove how relatable he is.
---
2

Handcuffs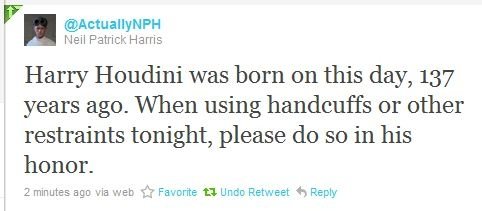 Neil plays a dirty-minded hottie on How I Met Your Mother, and he's not all that different in real life. He loves his saucy jokes, and never misses an opportunity.
---
3

Kids

Neil's twins are as precious as can be, but that doesn't mean that they stay out of trouble. Just like any other papa, Neil has to deal with the joys of teething.
---
4

Mother's Day

After accidentally giving his mama a Mother's Day thank you by saying, "You ate an amazing mom, a wonderful grandma, and a beautiful human being" instead of saying, "you are an amazing mom," Neil followed up with this clever tweet. What a perfect way to treat a typo!
---
5

Hugh Jackman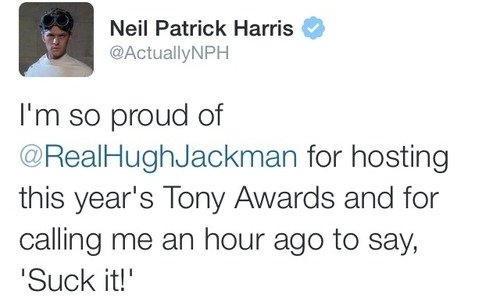 Neil has hosted the Tony Awards multiple times, and always kills it. However, now that he's busy on Broadway, he had to hand the torch over to Hugh Jackman. The two are pals, but they like to joke around.
---
6

Friday the 13th

Neil prides himself on being an amazing parent. What better way to help them grow than by teaching them to avoid superstitions?
---
7

Tom Daley

When Tom Daley announced that he was in a relationship with a man, Neil announced that he was attracted to the sexy diver.
---
8

Pharrell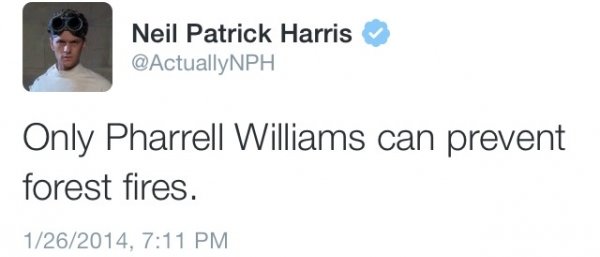 Everyone's been poking fun at Pharell for his choice of hats, and Neil couldn't resist joining in.
---
9

Nick Jonas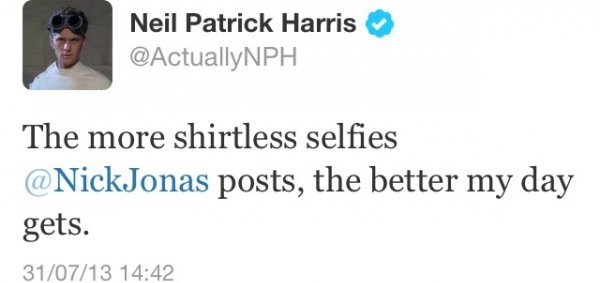 Don't you love admiring pictures of shirtless celebrities? Well, you're not the only one!
---
10

Neil's Birthday

As funny as this tweet is, Neil follows up by saying that he already has the two greatest gifts in the world, and posting a picture of his twin children.
---
11

David's Birthday

Neil wishes his fiance a happy birthday by singing the classic birthday song. How sweet!
---
12

Jason Segel

After Jason tweeted, "Does anyone know if The Muppets got a Golden Globe nomination? My internet is down," Neil replied with this comment. His and Jason's friendship doesn't end on stage. They're pals in reality, too.
---
13

Hot Air Balloon

It's no surprise that Neil lives an impressive life. Not only does he get to star on television, film, and Broadway, but he gets to have awesome adventures up in the sky.
If you're not following ActuallyNPH on twitter, then you should do so. Without a doubt, he's guaranteed to keep you entertained with his funny comments, career updates, and adorable family pictures. Who is your absolute favorite celebrity to follow on Twitter?
More
---
Comments
Popular
Recent